If you are looking for a new bike, then this blog post is perfect for you. 10 best BMX bikes for beginners will be reviewed in detail, and the benefits of each one will be analyzed. Whether you're just getting into biking or have been riding your whole life, there's something in here that will suit your needs!
10 Best BMX Bikes for Beginners, Kids, Youth & Adults
1- Mongoose Legion Freestyle Sidewalk BMX Bike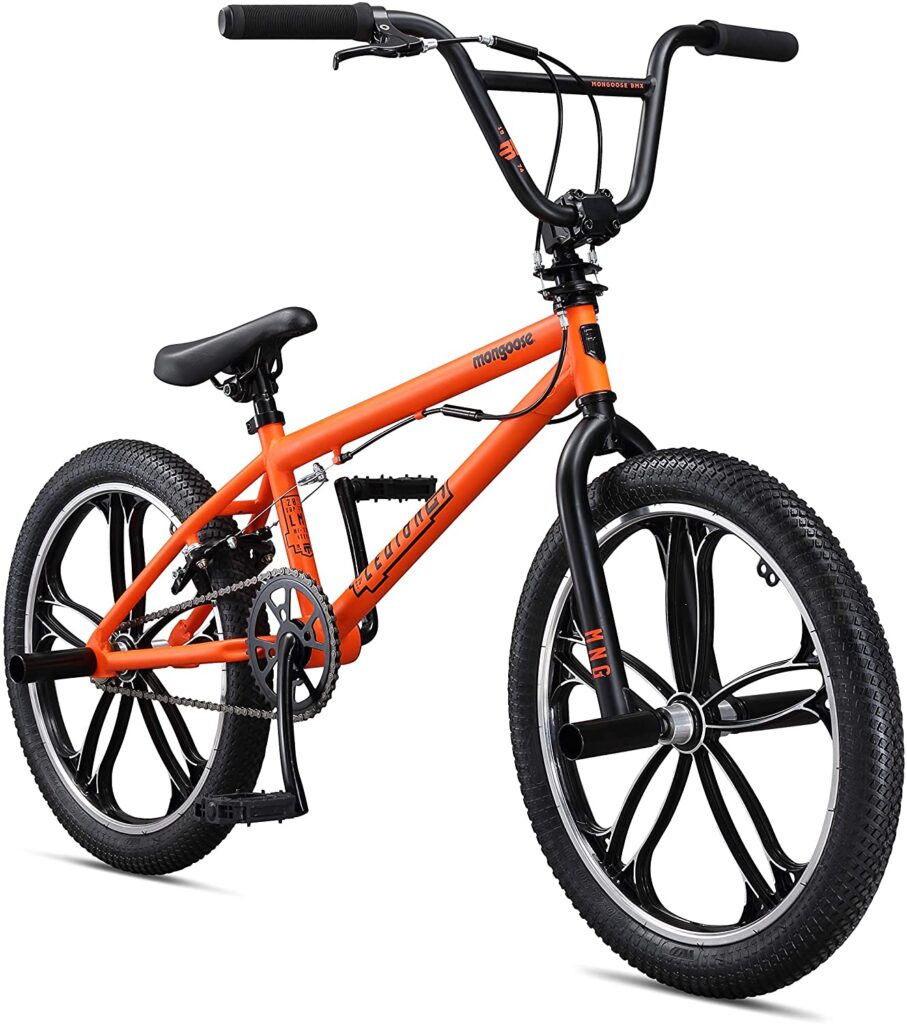 Wheel Size – 20 inch
The Mongoose Legion Freestyle BMX Bike is the perfect bike for your kid to learn tricks on. It's a great way to get kids outside, but they will need some help learning to balance and pedal. We recommend getting them started with training wheels until they can master balancing and pedaling simultaneously.
The Mongoose Cobra is designed to offer a stable, responsive ride with solid axles and alloy rears for secure stops. The company went the extra mile to offer a simple gearing system with durable construction. You will turn heads with this bike's awesome wheels and cable detangler that makes 360-degree handlebar spins possible.
With this bike, you'll have no problem teaching your kid how to ride! This is a good starter BMX bike that features easy-to-use parts like training wheels so that kids won't fall off while learning to balance and pedal.
2- JOYSTAR Gemsbok 20 Inch Kids Bike
Wheel Size – 20 inch
This is an entry-level bicycle designed for young riders serious about getting into BMX racing or freestyle biking. If you're looking to get your child started on their BMX first bike, then this is the perfect choice for them.
The Gemsbok Bike comes 85% pre-assembled, so it's easy to set up right out of the box! Your kids can be enjoying it within minutes after opening it up at home! It has all kinds of great features like front & rear caliper brakes, wide 2″ pneumatic tires that make it more stable than traditional training wheels, and a sturdy steel frame so that you know your kid will be safe when riding.
With its sturdy steel frame and crank, non-slip resin pedal, chainguard front & rear reflectors, and wheel reflectors – the JOYSTAR Gembok Bike is ready to ride as soon as it's out of the box! The single-speed drivetrain is effective and durable. The wider 2-1/4 inch pneumatic tires provide added stability. A kickstand is included so kids can quickly put their bikes on hold when they need both hands free. But most importantly – this BMX bicycle has it all.
3- Mongoose Legion L-20 BMX Bike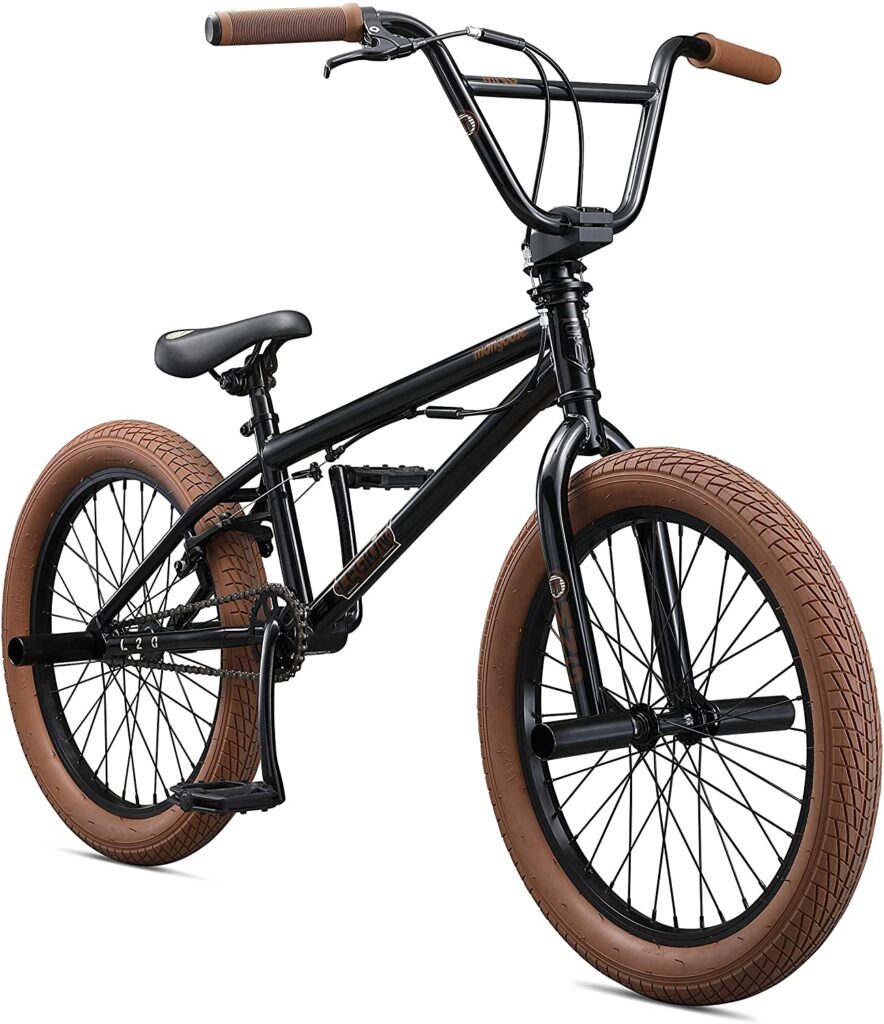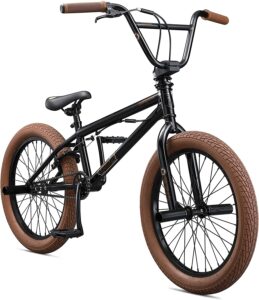 Wheel Size – 20 inch
Learning to ride a bike can be challenging, but learning on an unresponsive or unsafe bike is harder. The Mongoose Legion L-20 is an excellent choice for beginning riders because it's incredibly durable, affordable, and stylish.
If you're looking for a well-rounded freestyle BMX bike that performs like the pros ride, look no further than the Mongoose Legion L-20! This classic bike boasts an American Loose Ball Bottom Bracket with 170mm cranks, Hi-Ten Steel Frame and Fork, removable brake mounts, and more! With a 20 inch top tube length, this bike is ready for any beginner rider who wants to start popping off curbs today!
Can Adults Ride 20 Inch Bmx Bikes
4- Schwinn Sting Pro BMX Bike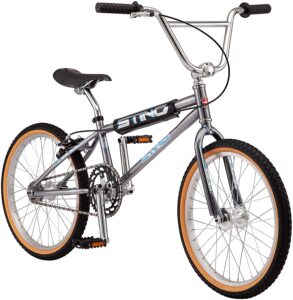 Wheel Size – 24 inch
Schwinn is a leading bicycle brand in the world. It has been manufacturing high-quality bikes since 1895, and it's one of the favorite brands amongst professional cyclists.
The original Sting was a great bike for its time. It's simple and durable, with a classic style that has stood the test of time. Nowadays, kids don't have access to bikes like this because they're too expensive and complicated to find in stores.
A new version of the Sting is available on Amazon! This updated version combines nostalgia with modern features that make it easier than ever before for kids to get their hands on one of these awesome BMX bikes.
The Schwinn Sting Pro BMX Bike has everything you need in an entry-level bicycle and nothing more. With an authentic high shine finish and decals, this steel-framed BMX bike works great for kids. With 24-inch wheels suitable for dirt or pavement and reliable brakes, this bike has the basics covered. The bike arrives fully assembled and includes a limited lifetime warranty. Add this classic style ride to your collection today!
5- Micargi Maze Cape Sidewalk BMX Bike, 20-inch Wheels
Wheel Size – 20 inch
The Micargi Maze Cape Sidewalk BMX Bike was designed to give riders of all sizes the comfort they need while providing them with the speed and control needed to master any terrain. This lightweight bike features an adjustable seat post and handlebars and a front brake lever that allows riders to slow down quickly when necessary.
The durable steel frame makes this bicycle incredibly strong while also making it easy to store in small spaces or carry on public transportation if necessary. With its classic look, sleek design, and high-quality components, this bike is sure to make every ride enjoyable from the first time you hop on until your last trip around town before putting it away for storage or transport back home.
If you're looking for a bike that will make your ride fun and exciting, then the Maze Cape is a top choice.
6- Brave BMX Kids Bike For Girls
Wheel Size – 16 inch
All kids want to ride bikes, but most parents are worried about safety. The solution is a bike designed with training wheels that can be easily removed once the child has learned to balance on two wheels. This way, you don't have to worry about your kid falling off and getting hurt until they're ready for it.
The Brave BMX Kids Bike for Girls comes with all of the standard features you'd expect from a quality bicycle, including an extra-padded saddle and rear saddle handle for easy carrying when not riding. In addition, this girl's bike features an adjustable seat height so she can grow into it as she gets taller over time.
A secured chainguard helps keep her clothing clean while riding around outside, and high-volume tires provide plenty of traction even in wet conditions or loose dirt trails. This is one of our favorite bikes at Amazon because it's safe enough for beginners while still being cool enough for even the most adventurous kids.
7- Revere Freestyle BMX Kids Bike For Boys
Wheel Size – 16 inch
Too often, kids' bikes are one-size-fits-all and don't fit well, causing frustration for both parent and child. This is especially true with BMX-style bikes, which have specific size requirements that off-the-shelf models don't always meet.
The Revere Freestyle is designed to meet the needs of young riders who want to get into BMX riding in an affordable, safe way. It's easy to adjust, so it will grow with them as they develop their skills over time, without sacrificing quality or safety along the way. Their design team has years of experience and is confident that this model meets any reasonable standard you might hold for a kids' bike like this one.
This sturdy steel-framed bicycle has an extra padded saddle so that bumps in the road won't hurt as much, while training wheels help them learn to balance before taking on hills and curves at top speed. It's not just about looks! They have designed this bike with both parents' AND kids' needs in mind by adding some of our favorite features like a chainguard (to keep pants clean) and high volume tires (for better traction).
8- Brave 20″ BMX Freestyle Kids Bicycle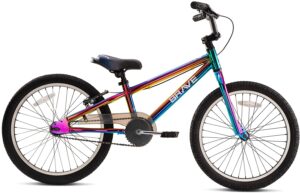 Wheel Size – 20 inch
BMX Freestyle Kids Bicycle offers an outstanding balance between safety and performance while being easy on your wallet! It features an adjustable handbrake lever so you can choose how much braking power your child should have based on their age and ability level.
The lightweight aluminum frame will help keep your child upright while they learn how to balance themselves and steer their bicycle safely through traffic around town or at home in their backyard! Your little one will love cruising along smooth surfaces like sidewalks, dirt roads, grassy fields, and even paved streets with ease, thanks to the high-volume smooth tread tires that provide plenty of traction.
9- Hosote Folding Kids Bike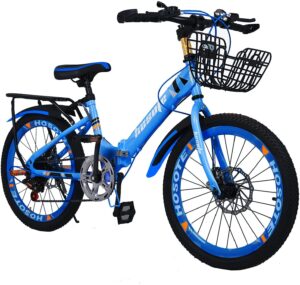 Wheel Size – 20 inch
The Hosote Folding Bike is designed especially for kids. Lightweight and portable, it can be easily carried around even when folded. It also has a safety handbrake that helps keep your child safe while riding.
The Hosote Folding Bike comes with dual disc brakes that provide extra control and stability during braking or stopping at high speeds. Dual disc brakes offer double the stopping power of regular brakes, allowing young riders to stop safely in an emergency.
Safety grips and handbrakes allow kids to have fun without worrying about losing control or falling over on their bikes. The 7-speed transmission system allows kids of all ages (and physical abilities) to ride up hills with ease! This folding bike can be easily transported by car or bus, making it easy for your child to get around town!
10- Hiland BMX Freestyle Bike
Wheel Size – 20 inch
This bike is an excellent choice for beginners. It's affordable, and it looks great!
The Hiland 20-inch BMX Freestyle Bike has a steel frame that can handle abuse from young riders. The 32x14T gearing makes it easy to ride, and this bike includes 4 pegs, which are more exciting than other models. The handlebars can turn 360 degrees, making learning how to ride easier because it allows riders more control over where they go next. You get all of these features at an affordable price point.
A well-made bicycle in a fun design doesn't have to cost hundreds of dollars; Hiland offers excellent quality at low prices so parents can buy their children safe bikes without breaking the bank!
This bike includes many features that make it ideal for beginners learning how to ride BMX bikes. It comes in many colors, so you can choose one that matches your personality perfectly!
Frequently Asked Questions (FAQs)
What is the right size BMX bike for a beginner?
BMX bikes are typically available in a variety of different sizes. You should always measure your child's height to determine the right size for them and then adjust their seat accordingly. Most BMX bike seats can be adjusted up or down, so you'll want to make sure it is at a comfortable level when they ride.
What types of features do these competitive racing bikes offer?
Large tires: 20-inch wheels with high volume tires increase traction and have low rolling resistance on paved surfaces and dirt roads for extra fun!
Adjustable handlebars: The adjustable handlebars allow riders more control over where they go next while learning how to balance themselves without worrying about losing control because of an unstable bicycle frame caused by outgrown handlebars.
Brakes: Braking power should be determined by your child's age and ability level to maintain the control they need without crashing. Riders of any experience need to have brakes on their bike because it will help them stop more quickly, especially when going downhill at high speeds or in an emergency like a fall off the bicycle!
Conclusion
The best BMX bikes for beginners are the ones that fit your needs. We hope you found this guide helpful in choosing a bike to start your new sport and hobby! Now go pick out one of these 10 great options for yourself or recommend it to someone else who might be looking into getting their BMX first bike.